Ovarian cyst causes, diagnosis and herbal remedies
Affiliate Disclosure
In compliance with the FTC guidelines, please assume the following about all links, posts, photos and other material on this website: (...)
Causes of ovarian cyst
Ovarian cyst problem can be caused by different factors. There are different types of ovarian cysts and the causes are also different for those different types of cysts.
The general causes of ovarian cysts include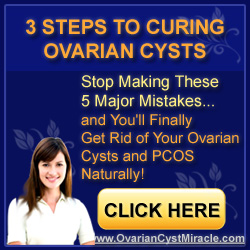 Hormonal imbalance
Irregularities in the menstrual cycle
Smoking
Early menstruation
Hypothyroidism

More fat

Use of Tamoxifen in case of breast cancer patients
Clomiphene (Clomid, Serophene) use. If specially increases the possibility of

Corpus Luteum cyst

.
Infertility treatment using

gonadotropins
Every month during the menstrual cycle, an egg is released which is enclosed by a follicle. During ovulation the egg is released from the follicle. If the follicle does not break and release the egg, then fluids in the follicle can result in follicular ovarian cyst.
Corpus luteum cyst occurs after the release of the egg from the follicle.
Diagnosis of ovarian cyst
Diagnosis of ovarian cysts is done based on the symptoms that usually show up in case of ovarian cyst. The doctor may review the medical history and perform a physical examination to find if the patient is suffering from ovarian cyst problem. There are several tests available for conforming presence of cysts in the ovary.
The most common symptoms that help in diagnosis of ovarian cysts are-
Severe and sudden pain in the pelvis or abdomen
Fever and vomiting with severe abdominal pain
Irregular, painful or delayed menstrual periods
Occurrence of pelvic pain during sex
Swelling of fullness of the abdomen
Increase in facial hair
Pelvic pain just before the beginning or end of period
Problem in completely emptying the bladder
There are several diagnostic tools that the doctors use for diagnosis of ovarian cyst. The doctor may go for any or all of the diagnostic tools mentioned below-
1. Endovaginal ultrasound
This is one type of vaginal ultrasound which is found to be more useful as it provides a better image of the possible ovarian cysts. It's considered better than abdominal wall ultrasound system.
2. Laparoscopic surgery
Laparoscopic surgery helps in finding out the type of cyst. It is also used for taking a biopsy.
3. Serum CA-125 assay
It is a blood test which is used for diagnosis of ovarian cyst. The blood test helps in finding out if the cyst is cancerous. However, this is not the most accurate test as increased levels of CA-125 may also occur due to endometriosis, adenomyosis etc.
4. MRI and CT scan
It is used for further confirmation of the presence of ovarian cyst.
Herbal remedies for ovarian cyst
Even though there are several medical treatments for different types of ovarian cysts, they may not be very effective and may result in some other side-effects. In case of a complex situation, when the ovarian cyst is too large and risk of rupture is there, doctors may surgically remove the ovarian cysts present in the ovary.
However, there are several natural therapies available for ovarian cyst problem. Natural options are very effective in case of functional cysts. Natural therapies can help you in two ways- clearing out the problems and prevention.
Different herbs are used for treatment of ovarian cysts. Ovarian cysts happen due to imbalance of hormones estrogen and progesterone. Herbs can help in restoration of that balance. The herbs used in treatment of ovarian cyst also helps in increasing overall vitality and cleansing the liver of the patient.
Some of the important herbs that will help you in treatment of ovarian cysts-
1. Chasteberry (Vitex agnus-casta)
It is a herb that helps in restoration of hormonal balance. More estrogen may result in ovarian cyst. Vitex brings estrogen levels down and helps in prevention of ovarian cyst.
2. Black cohosh
For balancing hormones, black cohosh is used along with red clover or other herbs. This herb is especially useful in restoration of irregular periods, which often results in ovarian cysts.
3. Red clover
Red clover has estrogen like effects. Besides using it for restoration of hormonal balance, it is also used for treatment of PCOS, which is another cause of ovarian cyst.
4. Dandelion
Dandelion is a diuretic and so it helps in cleansing of the liver. With a healthy liver, the body can flush out the excess hormones produced in the body. Such excess hormones are the cause of ovarian cyst.
5. Bee pollen
The poll is often used as a herbal remedy for different problems related to women reproductive health. It is also useful against ovarian cyst.
6. Wild yam
The chemicals found in wild yam are similar to estrogen. They can mimic the hormone in human body. Wild Yam creams can help in correction of the hormonal imbalance, which results in cyst.
7. Maca root (Lepidium meyenii)
Maca is a well-known fertility herb. It produces progesterone and helps in balancing hormones in the body. It also helps natural progesterone in working better by creating a conducive environment.
8. Dong Quai root (Angelica sinensis)
It reduces the pain created by ovarian cyst. The herb helps in hormonal balance.
9. Milk Thistle seed (Silybum marianum)
It is considered as one of the best herbs for liver. A healthy liver is very important for ensuring hormonal balance since it helps in removing excess hormones from the body.
10.Tribulus
Fruit and aerial parts of the herb are used. If it is used before ovulation, it normalizes ovulation. Normal ovulation reduces the risk of ovarian cyst. Tribulus is also considered as a nourishing tonic for the complete reproductive system of women. It is very useful for the ovaries.
11.Yarrow
Aerial parts of Yarrow is used in treatment of ovarian cysts. This herb helps by relieving pelvic conservation in the patients. The herb also improves the timing of the menstrual cycle.
Castor oil pack
This is another home remedy for ovarian cyst which is very useful and effective. This has been in practice for a long time. It not only cleanses the body but also heals it. Castor oil can draw the excess tissues and toxins and clears them out of the body. It also stimulates the circulatory system and the lymphatic system. The lymphatic system in the body is important because it removes waste and toxins from the body where castor oil is applied. The circulatory system is stimulated by Castor oil which results in bringing in more fresh oxygenated blood with more nutrients. Ovaries and other reproductive organs get this rich oxygenated blood, which helps in reduction of the ovarian cyst by dissolving them. However, Castor oil should not be used during menstruation.
The herbal and home treatment focuses on removal and prevention of ovarian cysts. It emphasises on balance of hormones in the body because hormone imbalance causes ovarian cyst. The balance is achieved by reducing estrogen and increasing progesterone with the help of the specific herbs. Herbal treatments also offer the solution for dissolution and reduction of ovarian cysts in the ovaries.
Treatments using herbs will not cure ovarian cysts in one day. It may need few weeks to 3 months since the herbs and the elements in them works slowly but effectively. It is important for you to consult a qualified herbalist while undergoing the herbal treatment for ovarian cyst.
Click Here! to find herbal remedies.
" New E-book Reveals Unique Holistic Strategies to Cure Ovarian Cysts. Discover How To Quickly And Easily Cure Ovarian Cysts Permanently…Even If Everything Else You Tried had Failed…Without Drugs, Without Surgery, and Without Nasty Side Effects " Guaranteed!
Click Here –-> Click Here!
Sources
1. http://www.ovariancystmiracle.com/Ovarian-Cyst-Video.php
2. http://news.psu.edu/story/320417/2014/07/09/research/letrozole-may-help-women-pcos-become-pregnant
3. http://www.nhs.uk/conditions/ovarian-cyst/Pages/Introduction.aspx
4. http://www.womenshealth.gov/publications/our-publications/fact-sheet/ovarian-cysts.html